Mercedes-Benz Key Fob Battery Replacement in San Diego, CA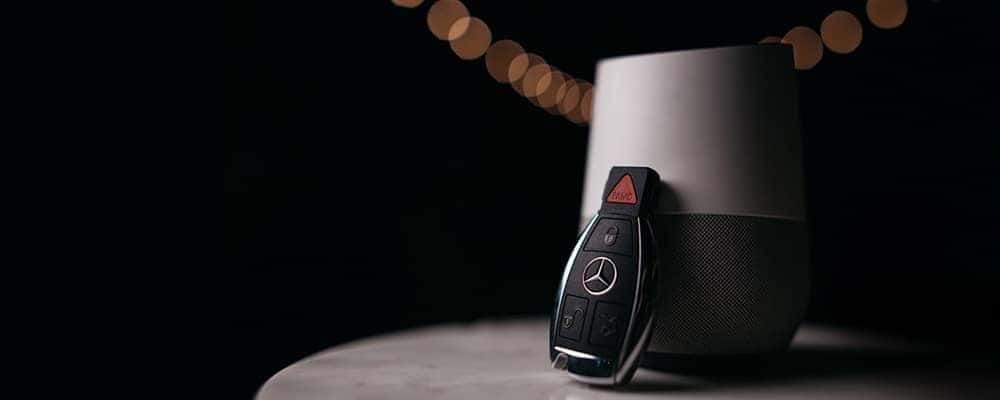 Are you worried about your Mercedes-Benz key fob battery or noticing that it's not operating as well as it used to? Check out our guide below to find out how to replace it before it's too late–a dead key fob might lead to not being able to start your vehicle on San Diego roads.
Contact Our San Diego, CA Mercedes-Benz Service Center
Have questions about how to change the battery in a Mercedes-Benz key fob? Contact our San Diego-area Mercedes-Benz service center at Call service Phone Number(888) 636-2341.
Schedule a Mercedes-Benz Service Appointment in San Diego
If you're having problems with your Mercedes-Benz key fob battery, and want help getting it replaced, schedule a Mercedes-Benz service appointment with our Mercedes-Benz service department. Our professional Mercedes-Benz service experts will help you get a new battery and fix any other issues with your pre-owned vehicle. Ready to get started?
Schedule a Mercedes-Benz Service Appointment
Mercedes-Benz Service Specials in San Diego, CA
Does your Mercedes-Benz vehicle need service? Before you bring your Mercedes-Benz in for service a or b, shop Mercedes-Benz service specials at our San Diego Mercedes-Benz dealership.
---
Signs Your Key Fob Battery Needs Replacement in San Diego, CA
There are many ways to tell if it's time or nearly time to replace your Mercedes-Benz key fob battery in Del Mar.
Your vehicle is increasingly difficult to start because the vehicle is having trouble sensing that the key fob is in the car.
It is becoming increasingly difficult to lock and unlock your doors.
Your key fob range seems to be getting shorter.
A warning light on your dashboard indicates a charging system issue.
How long do key fob batteries last? Ultimately, it depends on how often your key fob is used and where you store it! Although three to four years is a good "safe" estimate, some key fob batteries may last for up to ten years before they require replacement. To maximize the battery life of your key fob, keep these tips in mind:
Don't keep your key fob in the vehicle overnight. Modern key fobs are in constant communication with the vehicle as soon as they are within range. Keeping your key far away prevents this unnecessary communication and preserves the life of your fob.
As with any type of battery, allowing your key fob to get extremely cold can drain its remaining charge! This is just one more reason to keep your fob in a safe location and bring it inside overnight.
How to Change the Battery in a Mercedes-Benz Key Fob San Diego, CA
Follow these easy steps to proactively replace your key fob battery before it kicks the bucket.
Determine which type of key fob you have. The Chrome Key and Smart Key fobs are slightly different. Steps for how to open your Mercedes-Benz key fob can be found below, regardless of which key you're working with.
Get the appropriate replacement battery. The battery type for your Mercedes-Benz key fob should always be CR 2025. The Smart Key uses two 3-volt CR 2025 batteries while the Chrome Key uses just one. These are the small flat silver batteries you can find at most grocery stores and hardware stores.
How to Open Your Smart Key: At the end of the key holder, pull the latch and stick your key into the open slot. Lift the battery compartment out to replace the batteries.
How to Open Your Chrome Key: Pull the tab at the bottom, and push the key into the narrow end of the slot to pop off the cover and replace the batteries.
How to Order a New Key Fob from Mercedes-Benz of San Diego
Purchasing a second key and having it on hand can save you from all the trouble that a dead battery might otherwise cause! It will also protect you in the event that your current key fob is lost, damaged, or stolen–especially since key fob programming is more time-consuming when no original paired key is available.
Whether you're purchasing a backup key fob in advance or you're replacing a key that you've just lost, here's how to order a key fob from our team:
Visit our San Diego dealership on a weekday (Monday–Friday) between the hours of 7 AM and 5:30 PM. For security reasons, this order cannot take place online or over the phone! Don't make an appointment; just stop in.
Provide proof of ownership. We'll need your driver's license or your passport, as well as your current title or registration.
All key orders must be paid in advance, so call 858-223-4060 for current key pricing. Once again, for security reasons, cancellations cannot be accepted for these orders.
If your vehicle was made before model-year 2012, key programming should not be required. If your vehicle was made during 2012 or 2013, key programming may be required. Lastly, all vehicles made during and after model-year 2014 will require key fob programming when the new key arrives. This service is provided at an additional cost: if you already have a working key, programming costs $210; if you lack a working key, programming costs $315.
Read More from Mercedes-Benz of San Diego
Whether you need a commercial van for work or you're gearing up for long-distance adventures, the Mercedes-Benz Sprinter dimensions will help you get there and back with everything you want and need. The Mercedes-Benz Sprinter is available as a Cargo Van, a Passenger Van, a Crew Van, and a Cab Chassis, and dimensions will naturally vary from model to model. Still, every model in the lineup is spacious, smartly-designed, and well-equipped!

Each of the 2021 Mercedes-Benz GLE configurations has plenty to offer busy families and solo adventurers in the San Diego area. Whether you're looking for a luxury SUV or a high-powered premium coupe, you'll find that this model offers the perfect mix of space, power, maneuverability, and amenities. After all, this model has risen to the top of the exceptionally competitive midsize luxury SUV class for a reason!

Every aspect of the 2021 Mercedes-Benz GLS SUV is practically guaranteed to please. Of course, that claim extends to the generous Mercedes-Benz GLS dimensions, which allow you to accommodate up to seven passengers on the roads near San Diego and Del Mar. Inside and out, it's clear that this full-size three-row SUV has exactly what you're searching…